NEONATAL FELLOWSHIP PROGRAM
NEONATAL FELLOWSHIP PROGRAM
IAP-Neonatology Chapter recognized our institution in November 2008 for IAP-Neonatology Fellowship Program for two candidates every year commencing from January 2009. The Neonatology Chapter of the Indian Academy of Pediatrics is a sub specialty chapter of the Academy, which deals with academic, scientific and community activities conducted by the Academy for the care of newborn babies in the country. Beginning 2008, the Chapter started one-year Fellowship in Neonatology with the purpose of providing specialized training in Neonatology to students who have completed their post graduation in Pediatrics. The program will be conducted for candidates who are employed full time, as resident doctors, for a period of one year, in the institution, and the institution will conduct the training to be followed by Central examination.
Neonatal Intensive Care Unit is accredited by National Neonatology Forum of India. NNF has also accredited Neonatal Intensive Care Unit of Nirmal Hospital for NNF Neonatology fellowship program in 2013 for two fellowship candidates per year.
IAP - NEONATOLOGY CHAPTER FELLOWSHIP PROGRAM
NNF - NEONATAL FELLOWSHIP PROGRAM
Nirmal Hospital Pvt. Ltd. has a modern, well-equipped and sophisticated neonatal intensive care unit (NICU), which can provide all three levels of neonatal care and has dedicated and experienced transport team to transfer newborn and children from other health facilities. The intensive care nursery has a capacity of 20 beds for level 2 and 3 care. There is a Pediatric Department which has 30,000 OPD attendance and 3,500 indoor admissions per year. NICU has the capacity to ventilate 9 babies at one time with invasive ventilation including 2 high frequency ventilators and monitoring with support of experienced medical and nursing staff. In addition, there is facility to provide non-invasive respiratory support with continuous positive airway pressure (CPAP) and bi-level positive airway pressure (BiPAP) devices. Bio Medical Engineer is available round the clock for the trouble free and smooth functioning of the life support equipment. NICU provides IV fluid administration with infusion pumps, hence accurate volume delivery is ensured. There are multiple multi channel vital sign monitors, which are capable of measuring blood pressure both invasively and non-invasively. Every baby requiring continuous pulse oximetry has its own dedicated pulse oximeter.
NICU has abilities to support Pediatric Surgeons and Cardiologists pre and post operatively. Cardiac Echo and EEG services are available from visiting sub specialists. There is availability of portable x-ray and ultrasonography round the clock and hospital has 24-hour laboratory support for urgent investigations including blood gas analysis. CT and MRI Scan are available in close by facilities and the baby is transported to and fro for these investigations accompanied by trained Pediatrician.
Neonatal Transport Services-The unit also provides 24 hrs neonatal transport services from Surat and South Gujarat by a pediatrician to retrieve a newborn and is able to provide artificial ventilation & IV fluid administration as and when required. Hospital plans to use transport ventilator to support transfer from outside Surat.
The unit is staffed with four full time Consultant Neonatologists Dr. Nirmal Choraria, Dr. Rajiv Agrawal (Visiting Faculty), Mohit Sahni. Parents have a chance to interact with one of them on a regular basis Dr Rajiv Agrawal and Dr Mohit Sahni have extensive working experience in Neonatal Intensive Care in Europe.
We are proud to announce that The Neonatology unit of Nirmal Hospital has been accredited as Level II-B Special Care Neonatal Unit by the National Neonatology Forum (INDIA).
The management of the hospital extends heartiest congratulations to the staff of the Neonatology unit on this stupendous achievement.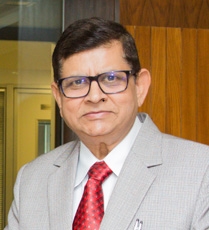 I wish to take this opportunity of sharing with you my vision of providing world-class health services to the people of south Gujarat.
Nirmal Hospital Pvt. Ltd. Ring Road, Surat, 395002, Gujarat-India
Modi children hospital & Nirmal Critical Care Centre,Kakrapar bypass road. Shabridham societyVyara, 394650
Miracle kids I.C.U, 3rd & 4th Floor, Shivani Motors Building, Next to Reshma Row House, Puna Kumbharia Road, Magob, Surat, 395010