Get A Job Here
Career At Nirmal Hospital
Nirmal Hospital is one of the largest integrated healthcare organizations in the world with owned and managed hospitals, diagnostic clinics, dispensing pharmacies and consultancy services. In addition, the group's service offerings include healthcare at the patient's doorstep, clinical & diagnostic services, medical business process outsourcing, third party administration services and health insurance.
We currently engage more than 70,000 doctors, nurses, paramedics, clinical staff and management professionals to manage over 10000 beds across 70 hospitals in India and abroad.
The talent and passion of our people is critical to our success and we foster it by providing an exhilarating working environment that inspires lateral thinking, fosters team spirit and encourages open communication. Teamwork, professionalism, focus on clinical excellence and goals of continuous medical innovation and commitment to progress make Nirmal Hospital an ideal environment for doctors to practice medicine, explore new frontiers and conduct path breaking research.
If you are looking to work with a truly global organization, Nirmal Hospital is where you should be. With a culturally diverse and a truly international team, we can provide a solid foundation for building a fulfilling professional career.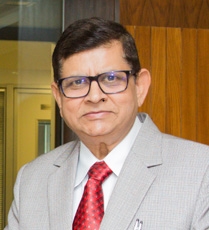 I wish to take this opportunity of sharing with you my vision of providing world-class health services to the people of south Gujarat.
Nirmal Hospital Pvt. Ltd. Ring Road, Surat, 395002, Gujarat-India
Modi children hospital & Nirmal Critical Care Centre,Kakrapar bypass road. Shabridham societyVyara, 394650
Miracle kids I.C.U, 3rd & 4th Floor, Shivani Motors Building, Next to Reshma Row House, Puna Kumbharia Road, Magob, Surat, 395010