Trusted Team of neonatologist in surat
Nirmal Hospital
has one of the best team of neonatologist
in Surat. We've advanced equipment like inhaled Nitric Oxide, whole body cooling system criticool for asphyxiated babies.
They being one of the trusted multispecialty hospitals in Surat, They have the best team of neonatologists in Surat who provide the best possible care for newborn babies. The hospital has a well-equipped neonatal intensive care unit (NICU) that provides round-the-clock care for premature and sick newborn babies. The hospital also has a well-trained team of pediatricians, pediatric surgeons and other specialists who provide comprehensive care for children of all ages.
We understand having a baby in the NICU is stressful, but the pediatric neonatologists at our Hospital do their best to provide comprehensive care for infants.
NICU has in-house TPN under HEPA filter hood all the preterm & high-risk NICU neonatology graduates are followed up in the growth and development assessment by Bayley -III method, also doing DAS-II. Prematurity aftercare OPD as well as they are screened for ROP, hearing (OAE, BERA).
Neonatal Intensive Care Unit (NICU)
Small Steps Morris Autism & Child Development Center :
It is been functional since September 2011.
COLLABORATIONS / TIE UPS :
Dr. Uday devaskar director of NICU at university college of Los Angeles ( UCLA ) USA is a honorary director of the NICU at deenanath mangeshkar hospital. We contact him for difficult cases. Every year, the staff from UCLA like staff nurses, respiratory therapist spend about 2 weeks & train our staff. Dr. Sheela Patil spent 1 & ½ month in the NICU at UCLA USA.
EDUCATIONAL TRAINING PROGRAM :
Provides you support throughout your breastfeeding experience.
PAST CONFERENCE OR EVENT DETAILS :
The milk bank was established in the year 2011 to improve health outcomes of premature and ill infants, foster better health for children and decrease health care expenditures. The milk bank receives human milk from screened donors. It is pasteurized, freezed and distributed to the needy newborns.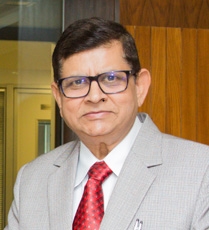 I wish to take this opportunity of sharing with you my vision of providing world-class health services to the people of south Gujarat.

Nirmal Hospital Pvt. Ltd. Ring Road, Surat, 395002, Gujarat-India